Parks & Public Amenities
There are a number of parks and public spaces for residents and visitors alike to enjoy within our Village.
Our public amenities include playground equipment, an outdoor splash pad, outdoor exercise equipment, public washrooms and bollard lights along Village trails to help light the way. Information about each of our parks is contained below.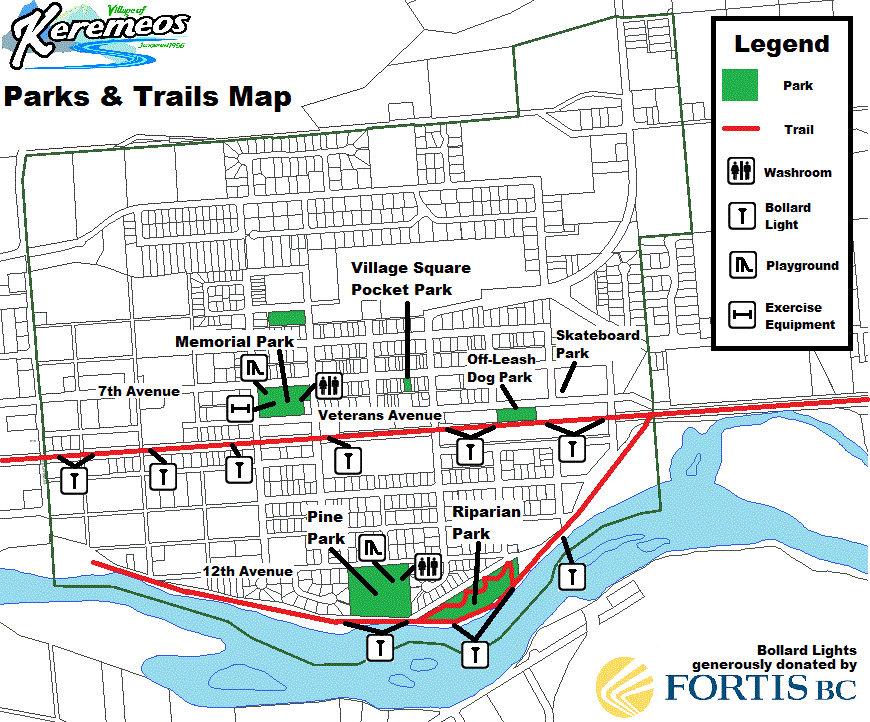 General Regulations
Please note that all parks within the Village are now designated as smoke free environments. We also ask that you please be cognizant of other park users' preferences, including:
Please do not leave litter in the parks – there are Village trash receptacles within each park and along Village trails.
Please do not disturb or damage the natural vegetation in the parks – our parks are part of a delicate ecosystem and everyone benefits from good stewardship.
Please ensure your dog is under control of leash to mitigate conflict with other dogs in the parks and along Village trails. The Off-Leash dog park is set up to allow for off-leash exercise of dogs and is the public space where dogs do not have to be on a leash.
Please remove any dog waste deposited while your dog visits a park. This will ensure the continued beautification of our community, and there are numerous dog waste bag dispensers in Village parks to help facilitate this.
Please refrain from consuming alcohol in Village parks. There is a zero-tolerance policy in effect and Bylaw Enforcement or Police will be called to confiscate.
Please refrain from camping or starting fires in Village parks. Your camping materials may be confiscated without warning. For a list of areas adjacent to the Village which allow camping, please

click here

.
To view the full text of the Parks Regulation Bylaw No. 808, please click here.
Park & Public Washroom Hours of Operation
Unless otherwise noted, all Village parks are available for use between 6 AM and 11 PM daily. The Village also reserves the right to extend this timeframe for public and special events.
Due to the climate of our area, Park Public Washrooms are not available between October 15th and April 15th. There are public washroom facilities at the Visitor Information Centre and Village Office which could also be used during regular business hours.
Park Public Washrooms are open between April 15th and October 15th and operate on an automatic timer, which restricts their hours of operation from between 7 AM and 7 PM daily. We ask that you do your best to ensure the public washrooms remain in a safe and sanitary condition.
Riverwalk Trail
A completely accessible, easy journey for the whole family to view the rare Similkameen River riparian ecology
The Okanagan-Similkameen Stewardship Society reports that there are 17 endangered species living in the riparian areas of the lower Similkameen River. Enjoy the accessible trail overlooking the river and watch for these precious inhabitants:
Yellow breasted Chat - listen for hoots, whistles, and clucks from this North American Songbird
Lewis' woodpecker – climbs trees in woodpecker style, but feeds catching insects swooping out from a perch like a flycatcher
Western screech-owl – locates prey by sight and sound, and is becoming less common due to habitat loss
White-headed woodpecker – non-migratory, less common due to the loss of Ponderosa pine forests
Long billed curlew – largest of shorebirds, likes to spend summer in the grasslands in arid areas like Keremeos
Bobolink – once known as ricebirds, causing havoc in rice fields, males love to sing a bubbly tune, hence the name
Western rattlesnake – small population in Southern BC, confined to dry valleys
Western yellow-bellied racer – long slender snake with smooth scales and moves very quickly
Western painted turtle - outstanding red and yellow patterns on its limbs and ventral shell
Great Basin gopher snake – largest snake native to British Columbia
Western tiger salamander – occupies open habitats such as grasslands and semi-deserts
Great Basin Spadefoot – this toad has cat's eye pupils and is usually grey or tan with unusual blotches
Umatilla Dace – is a member of the carp family, small barbels on its downward facing mouth identify this fish, lives in fast moving rivers and creeks
Monarch butterfly – fast growing, poisonous to predators and have slow motion clapping wings
Mormon Metalmark butterfly – small butterfly with wings 25-35mm, likes to feed on snow buckwheat
California big horn sheep – can be found in grassy mountain slopes and foothill areas near rugged rocky cliffs, like K Mountain
American badger – habitat is being affected by human development, unfortunately eradicated as a pest to farmers in the 1900's making the badger even more endangered
View the Riverwalk pamphlet with photos of the endangered species.
Directions
From the junction of Highway 3 and Highway 3A in Keremeos, follow Highway 3 southwest into downtown Keremeos. At the red flashing lights, proceed straight through the intersection to 11th Avenue. Turn left and follow 11th Avenue 2 blocks to the end of the road. Parking in grassy area to the left of the entrance to the ramp.
Pine Park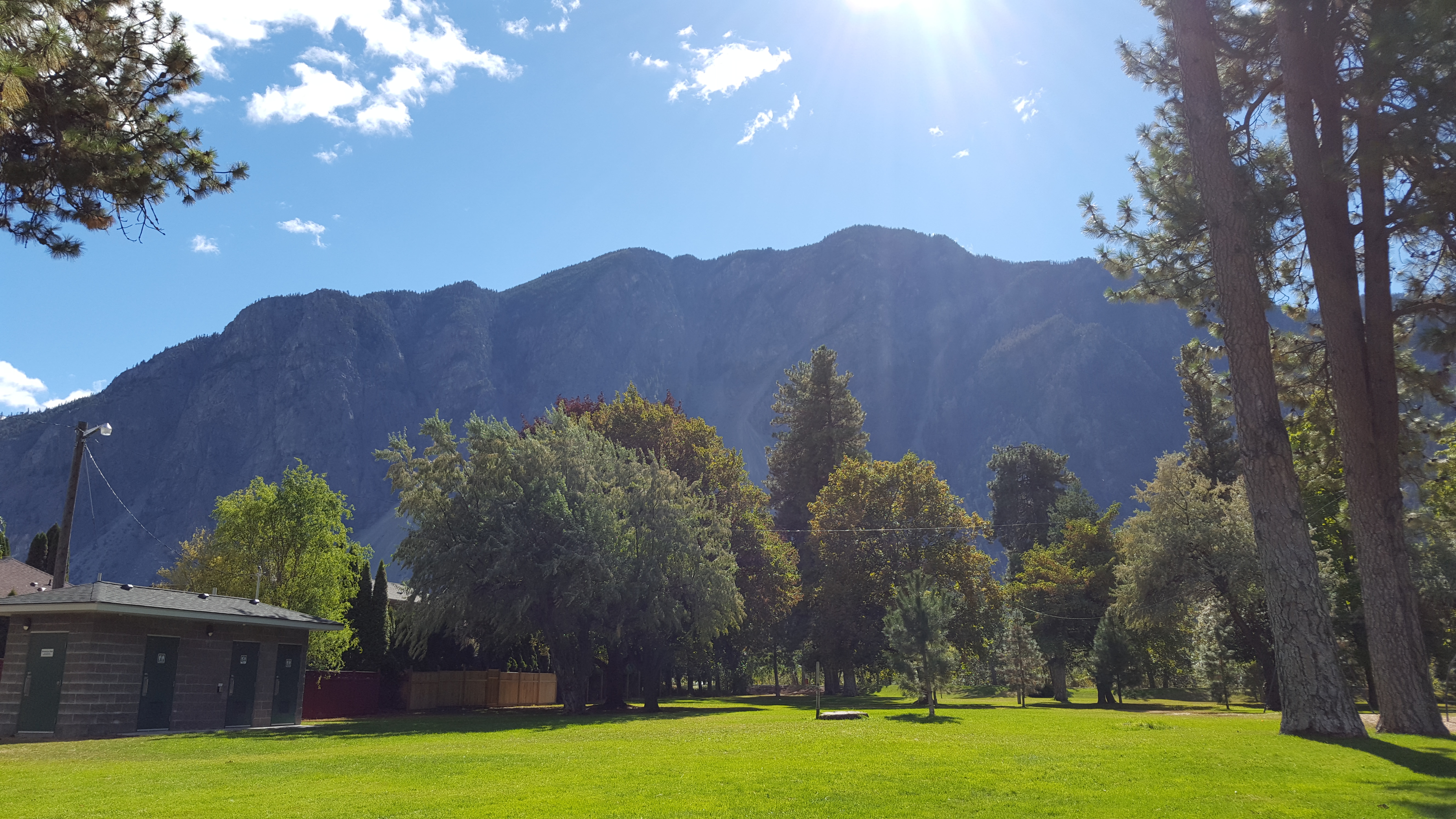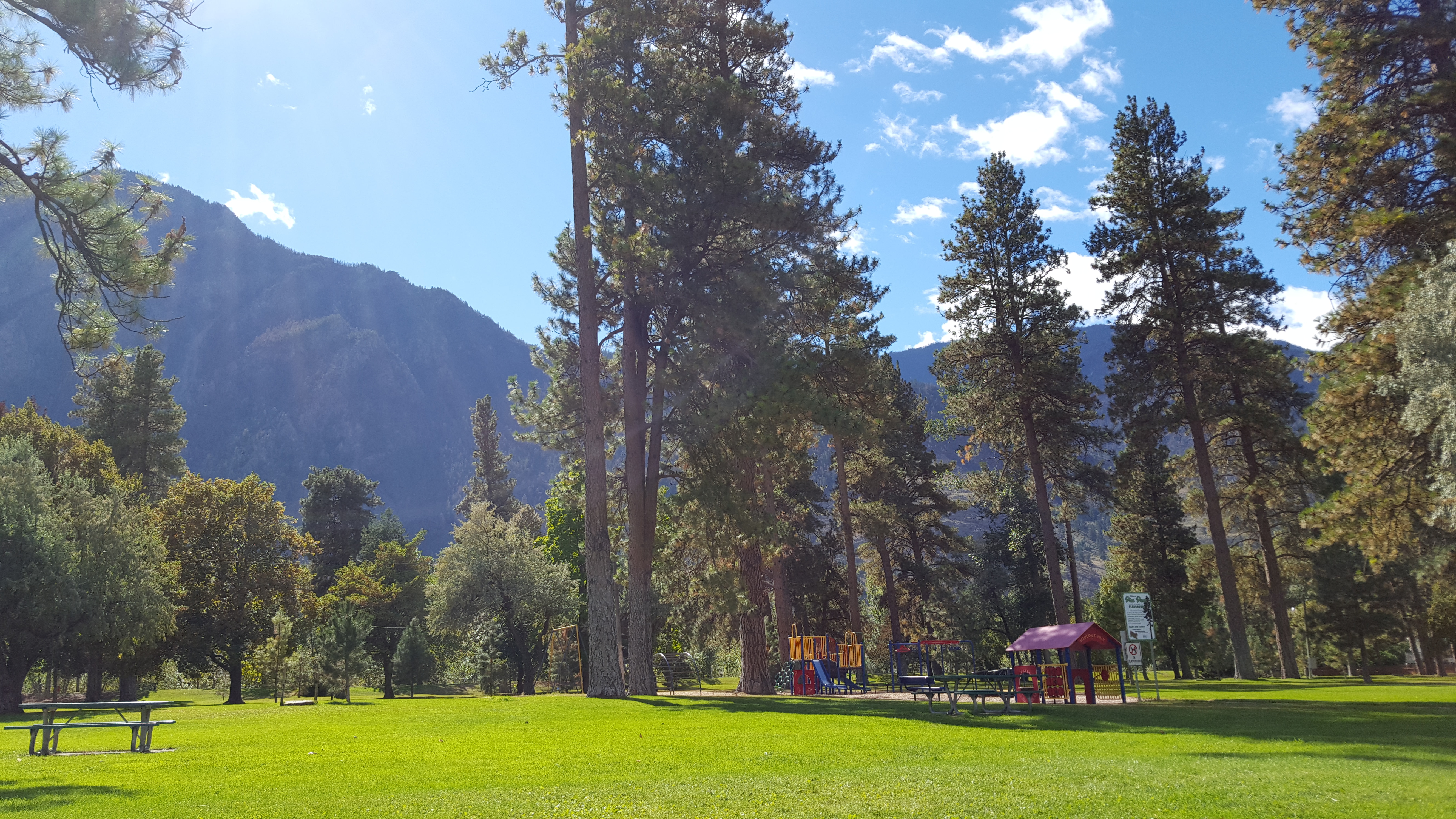 Pine Park is the largest and oldest park in the Village. The park includes 5.36 acres of coniferous trees and shrubs as well as playground equipment, public washrooms, picnic tables and park benches. Pine Park encapsulates the natural charm of our area, and each year numerous users enjoy use of the park due to the cool breeze provided by the adjacent Similkameen River.
For the convenience of park users, a porta potty is placed near the park frontage during the winter months when the public washrooms are unavailable.
Disc Golf in Pine Park
A professional from the Penticton Disc Golf Club designed the course for Pine Park. The course is a beginner course for all members of the family and is accessible. Baskets have been situated a very generous distance from neighbouring properties and the playground equipment.
A full round of Disc Golf in Pine Park takes about 30 minutes and is free of charge. Discs are available for rental from the Recreation Centre, 311-9th Street Keremeos. $2 for 48 hour rental of 3 discs (driver, intermediate, putter). ID is required for rentals. Call 250-499-2400 for more information.
Disc Golf rules can be found here and view the scorecard here.
Pine Park Disc Golf Course map - 2125' total length