Parks & Public Amenities
There are a number of parks and public spaces for residents and visitors alike to enjoy within our Village.
Our public amenities include playground equipment, an outdoor splash pad, outdoor exercise equipment, public washrooms and bollard lights along Village trails to help light the way. Information about each of our parks is contained below.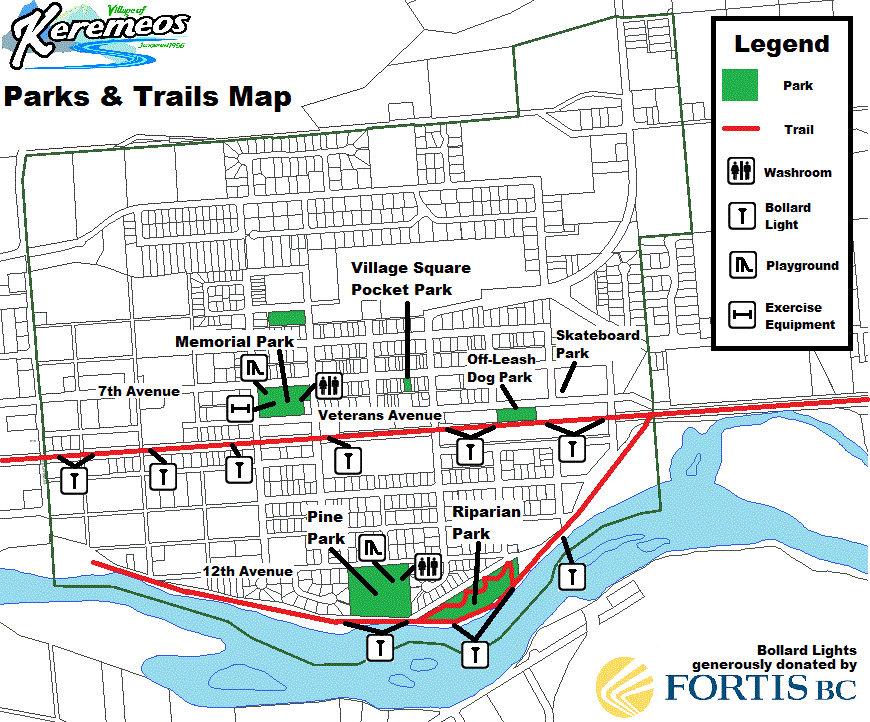 General Regulations
Please note that all parks within the Village are now designated as smoke free environments. We also ask that you please be cognizant of other park users' preferences, including:
Please do not leave litter in the parks – there are Village trash receptacles within each park and along Village trails.
Please do not disturb or damage the natural vegetation in the parks – our parks are part of a delicate ecosystem and everyone benefits from good stewardship.
Please ensure your dog is under control of leash to mitigate conflict with other dogs in the parks and along Village trails. The Off-Leash dog park is set up to allow for off-leash exercise of dogs and is the public space where dogs do not have to be on a leash.
Please remove any dog waste deposited while your dog visits a park. This will ensure the continued beautification of our community, and there are numerous dog waste bag dispensers in Village parks to help facilitate this.
Please refrain from consuming alcohol in Village parks. There is a zero-tolerance policy in effect and Bylaw Enforcement or Police will be called to confiscate.
Please refrain from camping or starting fires in Village parks. Your camping materials may be confiscated without warning. For a list of areas adjacent to the Village which allow camping, please

click here

.
To view the full text of the Parks Regulation Bylaw No. 808, please click here.
Park & Public Washroom Hours of Operation
Unless otherwise noted, all Village parks are available for use between 6 AM and 11 PM daily. The Village also reserves the right to extend this timeframe for public and special events.
Due to the climate of our area, Park Public Washrooms are not available between October 15th and April 15th. There are public washroom facilities at the Visitor Information Centre and Village Office which could also be used during regular business hours.
Park Public Washrooms are open between April 15th and October 15th and operate on an automatic timer, which restricts their hours of operation from between 7 AM and 7 PM daily. We ask that you do your best to ensure the public washrooms remain in a safe and sanitary condition.
Pine Park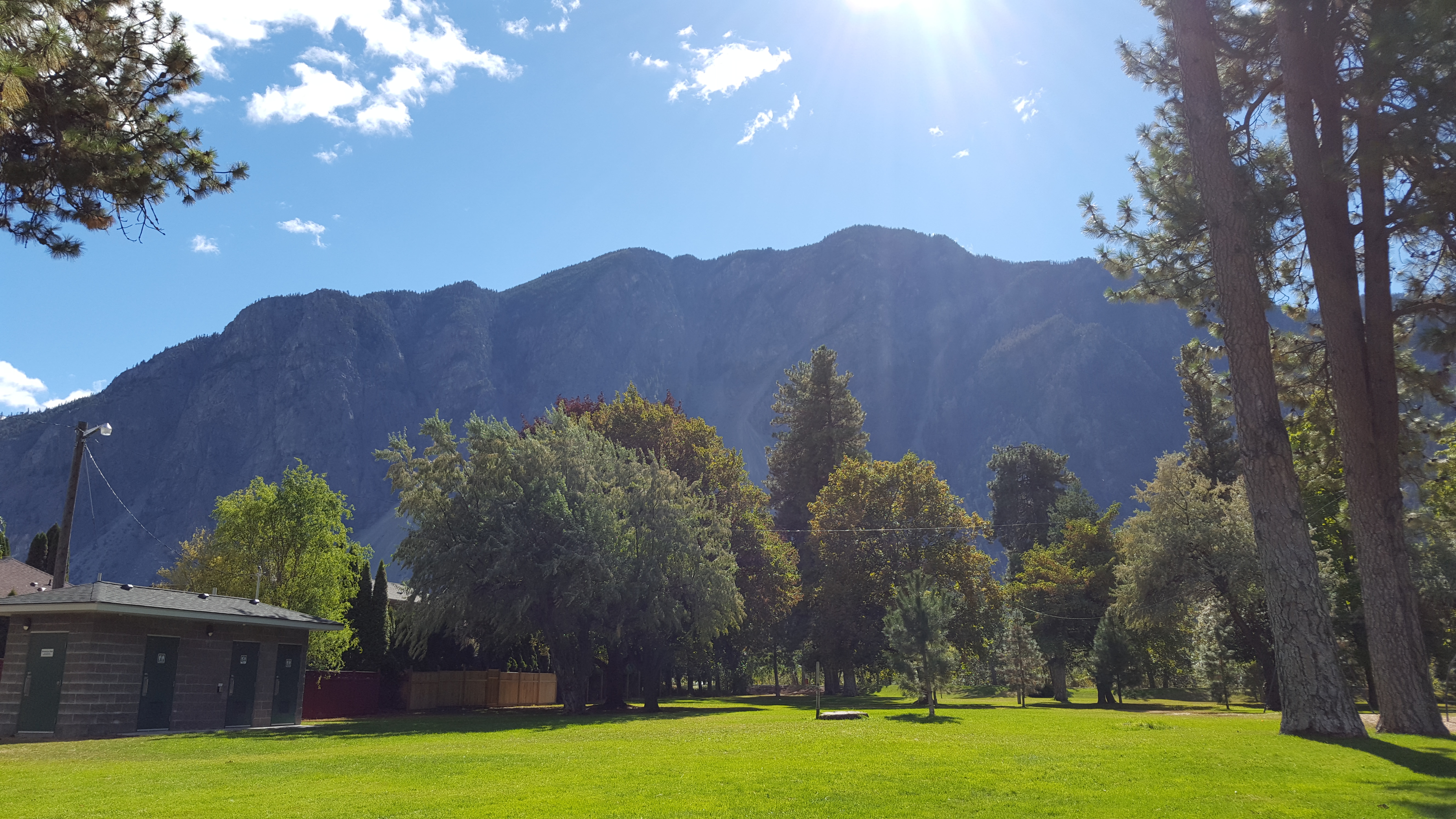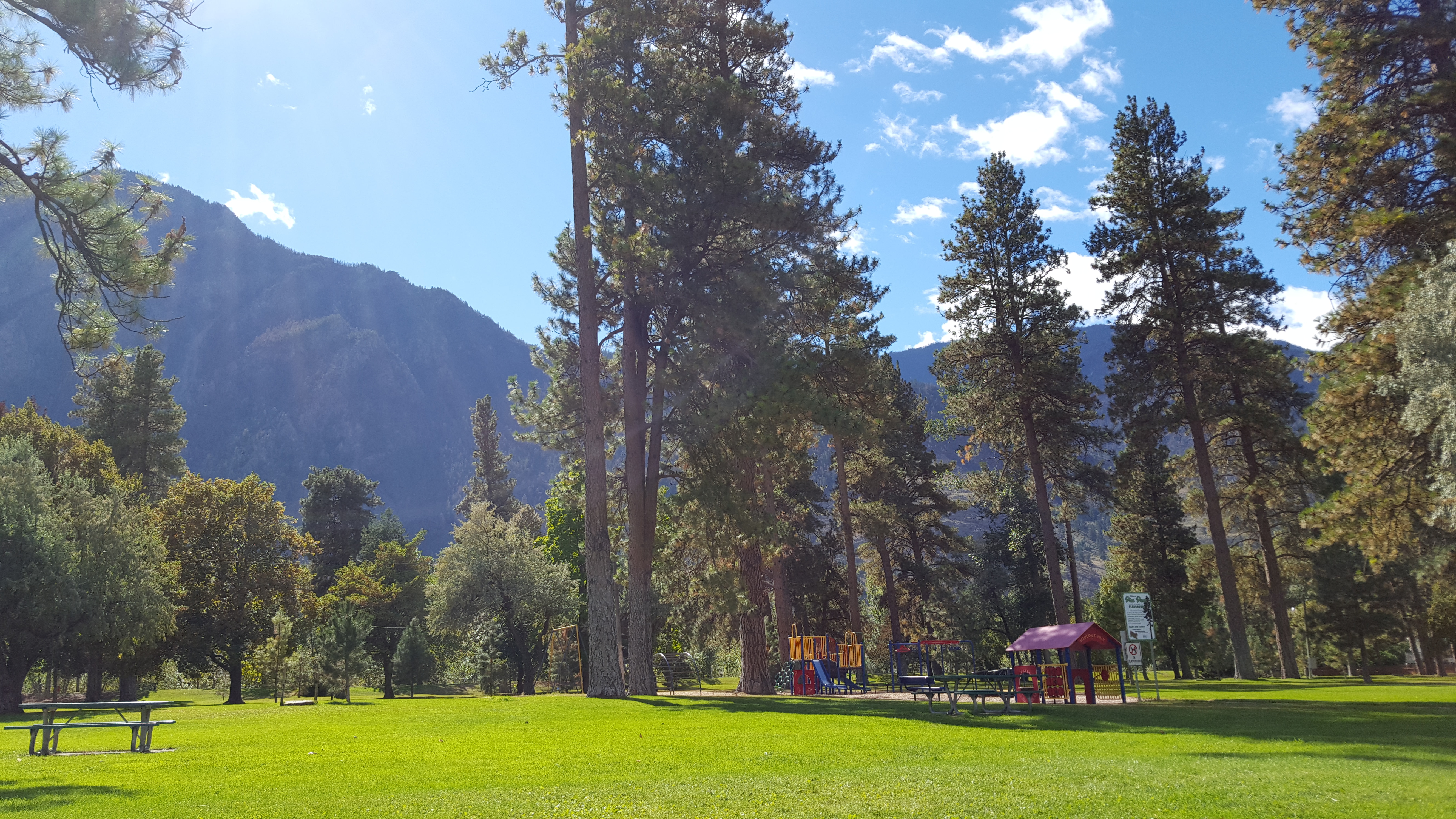 Pine Park is the largest and oldest park in the Village. The park includes 5.36 acres of coniferous trees and shrubs as well as playground equipment, public washrooms, picnic tables and park benches. Pine Park encapsulates the natural charm of our area, and each year numerous users enjoy use of the park due to the cool breeze provided by the adjacent Similkameen River.
For the convenience of park users, a porta potty is placed near the park frontage during the winter months when the public washrooms are unavailable.
Disc Golf in Pine Park
A professional from the Penticton Disc Golf Club designed the course for Pine Park. The course is a beginner course for all members of the family and is accessible. Baskets have been situated a very generous distance from neighbouring properties and the playground equipment.
A full round of Disc Golf in Pine Park takes about 30 minutes and is free of charge. Discs are available for rental from the Recreation Centre, 311-9th Street Keremeos. $5 for 48 hour rental of 3 discs (driver, intermediate, putter). ID is required for rentals. Call 250-499-2400 for more information.
Disc Golf rules can be found here.
Pine Park Disc Golf Course map - 2125' total length
Memorial Park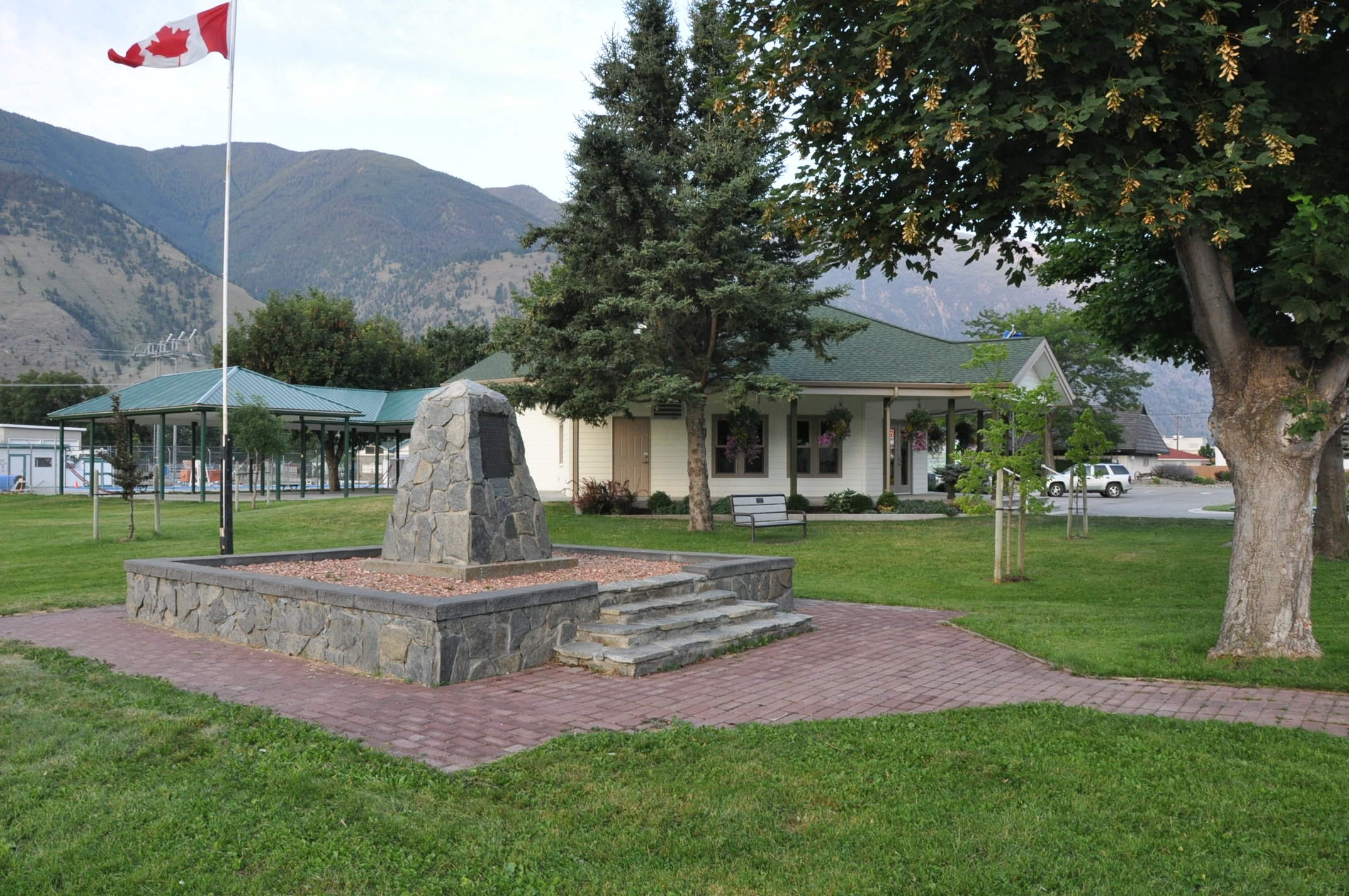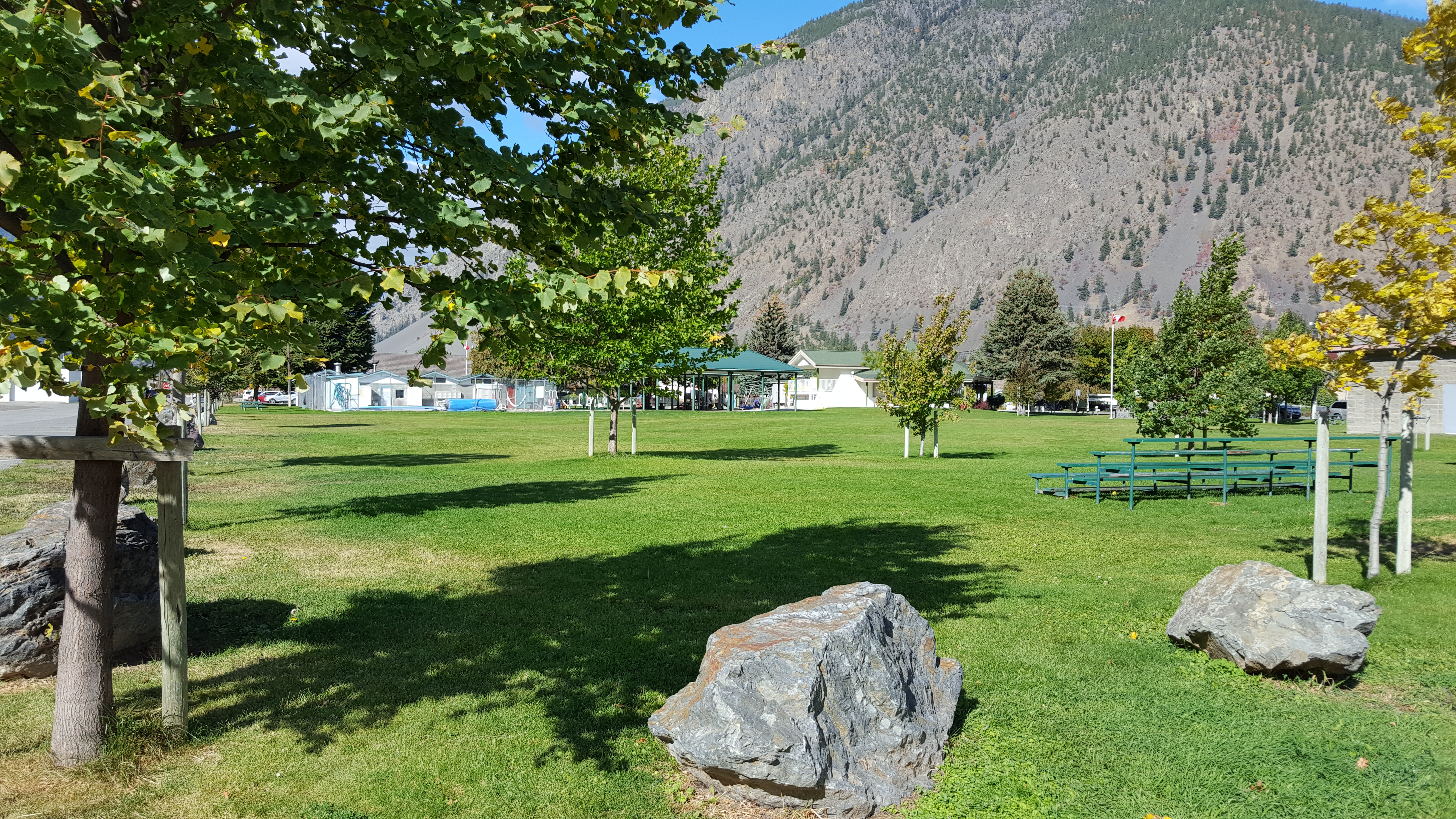 Memorial Park is located within the heart of our Village and draws its name from the Cenotaph located at the northern portion, which is used annually to observe remembrance of those who gave themselves for our freedom during the first and second world wars.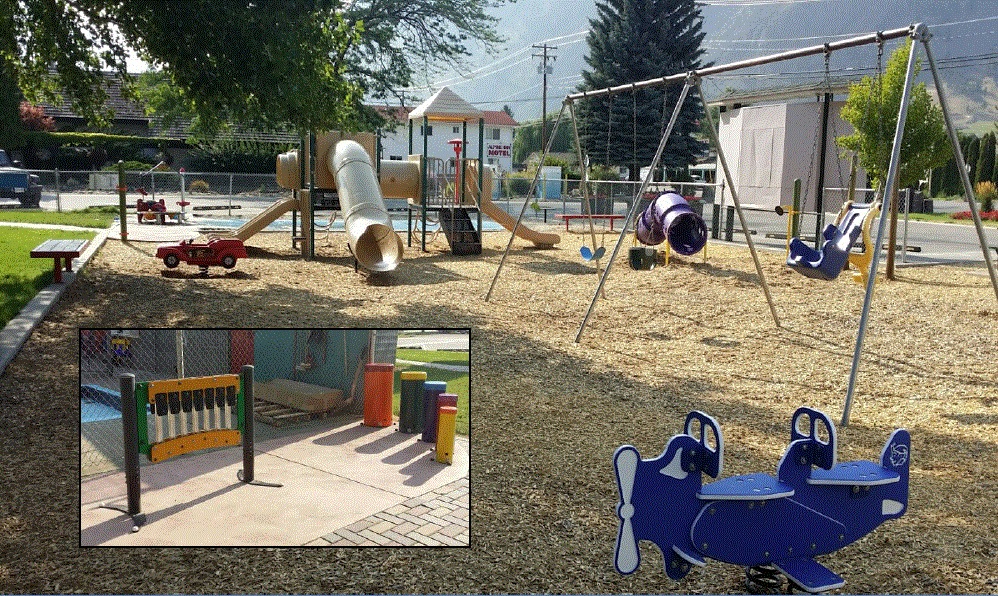 Memorial Park includes the largest concentration of public amenities, including upgraded playground equipment and a splash pad, a large gazebo with rentable picnic tables for large/public events, a community kitchen for hosting pancake breakfasts, public washrooms and outdoor exercise equipment.
Aside from being the location of the Village's multi-use community facility – Victory Hall – Memorial Park is also the home of a few buildings operated by other entities, such as the Visitor Information Centre, the Keremeos Community Pool and the Keremeos Senior Centre.
Memorial Park accommodates large public events on an annual basis, including the Similkameen Sizzle Pepper Festival and the Kars Under the K Classic Car Show and Shine.
Memorial Park, the Community Kitchen, the Gazebo and Victory Hall are all available for events. For additional information, please click here.
Age-Friendly Outdoor Exercise Park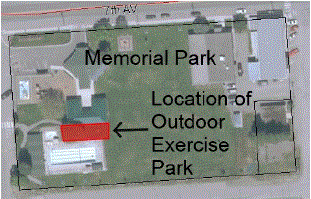 In early 2016, the Village received grant funding to construct an Age-Friendly Outdoor Exercise Park just south of the Gazebo in Memorial Park.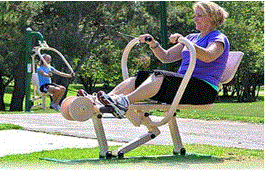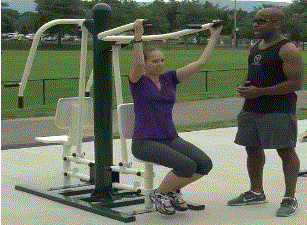 The equipment allows users to undertake a full range of strength and cardio exercises over five different stations and consists of a circuit including a rowing machine, leg press, seated lat pull, seated chest press and two exercise bikes. The equipment also contains instructional placards for users to follow and safely perform each exercise. A copy of these instructions can be found by clicking on the link below:
Exercise Equipment Instructions
The Village has also made Workout Guides available for residents to track and document progress with their particular exercise regimen. A copy of the Workout Guide can be found by clicking on the link below: